In our quest for cleanliness, we often turn to cleaning agents that, while effective, contain harsh chemicals that can harm our health and the environment. Fortunately, a new generation of organic cleaning products offers a safer, more eco-friendly alternative. This comprehensive guide will introduce you to the best natural cleaning products available today.
Why Choose Organic Cleaning Products?
The primary reason to switch to organic cleaning products is to reduce exposure to harmful chemicals at home. Conventional cleaning products often contain harmful components, such as formaldehyde, sodium hypochlorite, and ammonium hydroxide, which can cause health issues like respiratory irritation and skin problems.
Organic products, on the other hand, eliminate these harmful elements, opting instead for plant-based and biodegradable ingredients. As a bonus, many organic cleaning companies also adopt eco-friendly packaging and manufacturing practices, further reducing their environmental impact.
How to Choose the Best Organic Cleaning Products
Before purchasing an organic cleaning product, consider the following factors:
Ingredients: Look for products with plant-based or biodegradable ingredients. Avoid artificial fragrances, colors, or harsh chemicals.
Certifications: Choose products certified by recognized third-party organizations like EcoCert, Leaping Bunny, or the Environmental Working Group (EWG).
Packaging: Opt for products with biodegradable or recycled packaging. Avoid excess packaging or single-use plastic containers.
Performance: Read reviews and recommendations from other users to ensure the products work effectively.
Price: While organic cleaning products may cost more upfront, they often prove more cost-effective in the long run.
Brand Reputation: Look for brands with a solid reputation for producing high-quality, effective, and eco-friendly cleaning products.
Top Organic Cleaning Product Brands
From bathroom cleaners to laundry detergents, the organic cleaning product market has something for everyone. Below are some of the top brands offering a wide range of organic cleaning solutions.
Better Life Natural Tub and Tile Cleaner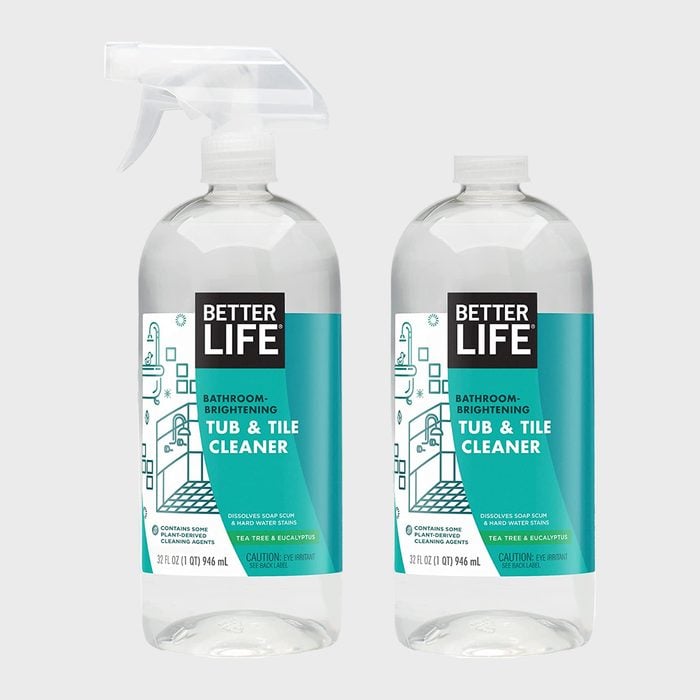 Better Life offers a natural, eco-friendly solution for bathroom cleaning. The Better Life Natural Tub and Tile Cleaner is a plant-based, chlorine-free product that effectively cleans grout without harsh chemicals. It has earned over 10,000 five-star ratings on Amazon.
Grove Collaborative
Grove Collaborative is changing the game when it comes to organic cleaning. Offering a variety of household and personal care subscriptions, Grove Collaborative uses sustainable materials, reusable packaging, and carbon-neutral shipping to minimize environmental impact.
Thrive Market
Thrive Market is a one-stop destination for natural and organic household cleaners. As a membership-based service, Thrive Market offers affordable eco-friendly brands like Seventh Generation, Truce, and Dr. Bronner's, all with a minimal carbon footprint.
Dropps
Dropps offers eco-friendly, mineral-based cleaning products packaged in compostable packaging. Their range includes everything you need for clean clothes and kitchen essentials, all made with sustainability in mind.
Blueland
Blueland is a nontoxic household brand that challenges the conventional cleaning product industry with its innovative, green formulas. All Blueland products are water-free and low-waste, with refillable packaging you can use repeatedly.
Tips for Switching to Organic Cleaning Products
While there are plenty of reasons to switch to organic cleaning products, there are also a few potential pitfalls to watch out for. Here are some tips to ensure a smooth transition:
Check Reviews: Not all natural cleaning products perform as well as their conventional counterparts. Check product reviews to find the most effective options.
Start Small: Don't overwhelm yourself by trying to replace all your cleaning products at once. Start with one or two items and gradually switch to more organic options over time.
DIY it: Making your own cleaning products can be a cost-effective way to switch to organic cleaning. Simple ingredients like white vinegar, baking soda, and essential oils can be used to make a variety of effective cleaning solutions.
Conclusion
Switching to organic cleaning products is not just about having a cleaner home, but also about creating a healthier living environment for you and your family. By choosing organic cleaning products, you're not only reducing your exposure to harmful chemicals but also contributing to a sustainable future. So, why not give it a try? Your health and the planet will thank you.