This article contains affiliate links, find out more here by reading our policy and disclosures
While the social media influencer trend started years ago, it seems like in the past few years everyone has been trying to join the movement and start monetizing their brands.  But just because everyone is trying to do it, doesn't mean they're doing it right. 
We'll show you some simple and straightforward ways you can start building and taking advantage of your social media presence and start making money.
From Instagram shopping, Facebook, to Snap chat, and the list goes on and on, there are a number of ways to start making money on social media.  But how?  
No worries, we'll break it down.
Social Media Lessons Applied in 2020
The social media influencers of today are benefiting from the lessons the first influencers learned a long time ago: more followers = more money.
The more social media followers and media attention you have, the more money you can potentially make.
We can't tell you how many people we have come across that have gained thousands of followers on social media but weren't aware they could make money from their following.
Little did they know, sponsors are willing to pay social media influencers money for simply wearing some sponsored merchandise, or displaying the sponsors logo in one of their videos.  Even sending out an Instagram or Snapchat post where you are using a particular brand can bring in a large amount of income.
If you have a strong social media presence today, you can start the process of converting that following into income today – it's really that simple. 
Make Money with Instagram Shopping 
With Instagram Shopping, you're able to put a product tag on your post or product sticker on your story.  When someone clicks that tag, they are taken to a separate page where they can see the product details and price.  A link will be on the page that will take them directly to your website where they can purchase the item.  Easy right?
A strong following is ideal, but even with just 1 or 2 thousand followers, you can start making money with Instagram Shopping.
Here's how in 3 easy steps:
First Step

–

get approved for Instagram shopping
Second Step – Turn it on
Third Step – Start Adding Tags
It's as simple as that. Once you get approved for Instagram Shopping, you can get started the same day.  Keep in mind that initially it can take anywhere from a few hours to more than a few days to get approval from Instagram.
Make Money with Snapchat
Snapchat has been growing steadily since it came out in 2012.  Videos regularly get tens of millions of views, and there are more than 110 million active users that access the app every single day.  With this kind of traffic, it's really just a matter of getting followers and keeping their attention long enough to show them merchandise or a service they may be interested in.  The average attention span on social media is around 12 seconds, so be quick!
Here's a few quick tips to get started:
Post content regularly (several times per day).
Avoid selling products or services until you have a solid following (at least 1-2 thousand followers).
Selling and promoting merch too soon can be a big turn off to your followers.  Have patience.
An exception to the "Don't post too early rule" is to post reviews of a product and whether or not you believe it is worth buying. Your followers may appreciate this and may even click through and buy the item you're recommending.
Be original.  New and innovative content stands out; recycled content?  That's hit or miss.
Once you have followers, you can always link them back to your website or other pages where they can purchase your product or service.
TIME TO GET STARTED
If you already have a following on social media, the possibilities for you to make money are endless.  Take a look at GrapeVineLogic.com.  On Grapevinelogic, you'll be put in contact with sponsors that are ready to hand over cash in exchange for your promotion of their products or services.
If you currently don't have a large following on social media but you want to make money, you have some work to do.
If that's the case here are a few tips on how to gain more followers on social media:
Quality Content

 – Post great content and post it regularly.  Quality is definitely better than quantity, but make sure you post a few times a day to these outlets.
Be Unique

– Try to distance yourself from the pack and post content that is authentic to you.
Hashtags# – If you are new to social media or if you don't have a large following, hashtags are a must.  Hashtagging puts your content in front of all the eyes that are following that particular hashtag.
Share – If you see something amazing or interesting on social media, share it, give a shout and comment on it.  Even if the content is not your own, people may like your repost and follow you anyway. This concept applies to Snapchat, Instagram, Facebook, and Twitter.
Follow – Sometimes in order to lead, you have to learn how to follow.  Follow the big names that are successful in the area you want to influence.  If you're into sports, follow the major influencers in that category. Fashion?  Do the same thing. You can learn a lot from watching the major influencers and start making some of their social media moves your own.
Want More Tips?
The best tip we can give you right now, is to take action.  Join social media outlets and start putting out posts that are authentic to you.  If you are interested in foreign films, an unknown artist, even a breakout video game, just start following other people that share the same interest as you, and start interacting with that community.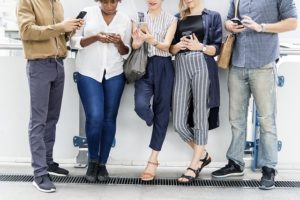 Interested in a new trend that isn't being discussed in detail on social media? Perfect. You may end up being one of the first to start posting original content on the subject, and perhaps you can be the presence that others will start to follow.
And of course, if you're already established with at least 10,000 followers on Youtube or Instagram, you can go to Grapevinelogic.com right now and start looking for sponsorship opportunities.
SOCIAL MEDIA MONETIZING STRATEGIES
Even if you follow all of the tips above, standing out in social media is no easy task.  That's why we recommend you checkout Instagram On Fire.  You can download the Free PDF and start learning how to gain more followers on Instagram and monetize your social media presence.
The strategies you learn with Instagram on Fire can be applied to other social media outlets.  Download the free PDF and take a look closer look for yourself.
Find it here – Instagram on Fire.