This post contains affiliate links, to learn more see our policy and disclosures
For me, the only thing better than hopping into a hot and steamy shower, is hopping into a CLEAN, hot, and steamy shower. Moldy, slimy, and mildewed shower curtains, doors, or walls are about the last thing anyone wants deal with after a long day at work.
As we know, it doesn't take long for mold and mildew to build up.  A good way to prevent this from happening, is to do a quick clean on a daily basis. That's easy to do with a powerful and effective daily shower cleaner.
I know at first glance, creating an all-natural shower cleaner at home may seem a little daunting, but with a few easy to find ingredients, you can make it happen in minutes.  
Here's a quick breakdown of what ingredients you'll need and why.
Vinegar – this is the queen of natural germ killers and is very budget friendly too.  Not only is it antibacterial, but it does wonders for cutting and eliminating mold and mildew as well.
Tea tree oil – Not as well known as vinegar, but a worthy germ fighter to add to almost any homemade cleaning solution.  This has very strong germ fighting capabilities and will leave your shower with a fresh scent.  
All-natural dish soap – Ideally, I like to stick with essential oils and a few other reliable natural cleaners, but for this job, a bit of scrubbing may be necessary.  If you have to scrub stains out of the shower, baking soda may do the trick, but its abrasive qualities may do some damage in the process.  A safer bet is to add some all natural dish soap.  This will provide enough bubbles, thus friction, to help you clean away ingrained stains without damaging or scratching tile.
Now that you know what to use and why to use it, follow this simple recipe to blend it all together and start cleaning naturally.
All-Natural Shower Cleaner
One and a half cups (355 milliliters) of White Vinegar
20 Drops of Tea tree oil
2 Tablespoons (30 milliliters) of all-natural dish soap
16 ounce (473 milliliter) Spray bottle (glass bottle preferred)
Mixing instructions: 
 In a 16 ounce spray bottle, pour in the 12 ounces of vinegar first, followed by the 20 drops of Tea tree oil.  
Close the bottle and gently swirl and agitate the solution for 30 seconds. 
Open the bottle and pour in 2 tablespoons of all-natural dish soap and close the bottle one more time.
Gently swirl the solution, being careful not to make soap suds, for 30 more seconds.
Your All-natural Shower Cleaner is complete!  You're ready to clean naturally.
Directions:
Use the all natural daily shower spray as you would with any shower spray. Wipe or scrub stains as necessary.
What's Next?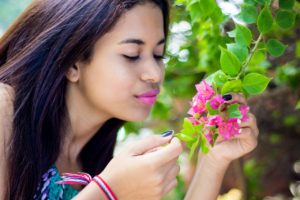 Learn an all-natural way to keep your bathroom and entire home smelling fresh – Find out how.