This article contains affiliate links, find out more by reading our policy and disclosures
Over the years, teeth whitening has become a billion dollar industry, and there is no shortage of products and services out there to help you whiten and brighten your smile. 
From store bought whitening kits, to costly laser whitening procedures at the dentist office, there are a number of ways to approach teeth whitening. 
For me, the best way to approach teeth whitening is the old fashioned way, or better put, the natural way.  Here's a quick and easy whitening toothpaste recipe that you can use over and over again for months to come.
Quick breakdown of the natural ingredients in this recipe:
Baking Soda – the abrasive qualities of this ingredient help remove plaque from your teeth.  Along with removing plaque, baking soda has the ability to remove other stains from your teeth and freshen your breath as well.
Coconut Oil – this ingredient helps balance the dryness of baking soda and softens the texture of the toothpaste recipe.  In addition to that, coconut oil helps fight off harmful bacteria in your mouth and it can help prevent plaque build up.
Peppermint Oil – this refreshing ingredient doesn't just add a cool taste to your natural toothpaste, it also has the ability to inhibit biofilm formation on your teeth.
With just these few ingredients, you'll be able to start making your natural whitening toothpaste right away.  Just pick up the few items listed, mix them according to the easy to follow recipe, and start naturally whitening your teeth today.
Natural Whitening Toothpaste – Ingredient List
5 Tablespoons (60 g) of Baking Soda
4 Generous Tablespoons (60 ml) of Room Temperature
Coconut Oil
How Do I Mix It?
Scoop your 4 generous tablespoons of Coconut Oil into the Small Twist Top Jar
Next, pour in the 5 tablespoons of Baking Soda and mix well
Finally, add the 1/2 teaspoon of Peppermint Oil and mix thoroughly for at least 1 minute
For desired consistency, feel free to add a touch of baking soda and or coconut oil as needed
Brush your teeth as you would with any other toothpaste
A Bonus Teeth Whitening Tip
If you want to take your natural teeth whitening to the next level, don't hesitate to rinse with a Hydrogen Peroxide (3%) blend aka our Teeth Whitening Mouth Wash.
Teeth Whitening Mouth Wash   
Hydrogen Peroxide(3%) 1 oz / 30 ml
&
Water 1 oz / 30 ml
How to mix it
In a cup, mix 1 oz of

Hydrogen Peroxide (3%)

with 1 oz of water.  If you want to make more or less of the blend, just make sure the peroxide and water are added in equal parts.
Mix the solution for 15 seconds and it will be ready to use.
How to use it
Mix the Teeth Whitening Mouth Wash around in your mouth for 45 seconds to 1 minute and spit it out, being sure not to swallow any of the solution.
Afterwards, be sure to rinse your mouth out with water.
Keep in mind that while hydrogen peroxide has the ability to whiten teeth, it should only be used in moderation.  Make sure you only rinse with hydrogen peroxide 3-4 times per week, never exceeding 4 weeks consecutively. And of course, don't forget to go to your regularly scheduled dentist appointments and always talk with your dentist about any changes in your dental care routine.
No time for the recipe?  That's Okay
If you don't have time to mix the recipe, there are other natural teeth whitening options that can whiten and brighten your smile.  If you want a great natural whitening toothpaste you can find it here.
Options for leftover ingredients:
Left over baking soda – Use it to deodorize your refrigerator or trash can, or it can be used to fight off tough odors in your carpet.
Left over coconut oil – Use it in the kitchen as an every day cooking oil or add it to your favorite smoothie recipe.
Left over peppermint oil – Use it as a natural air freshener for your home.
What's Next?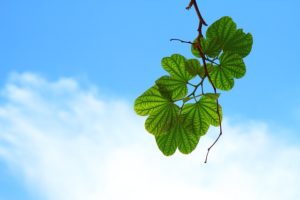 You've just learned how to whiten your teeth and freshen your breath naturally, how about naturally freshening the air in your home? 
Take a look at some Natural Air Fresheners that Really Work